Posted by Emily Scullion in Columbus, Happy Homeowners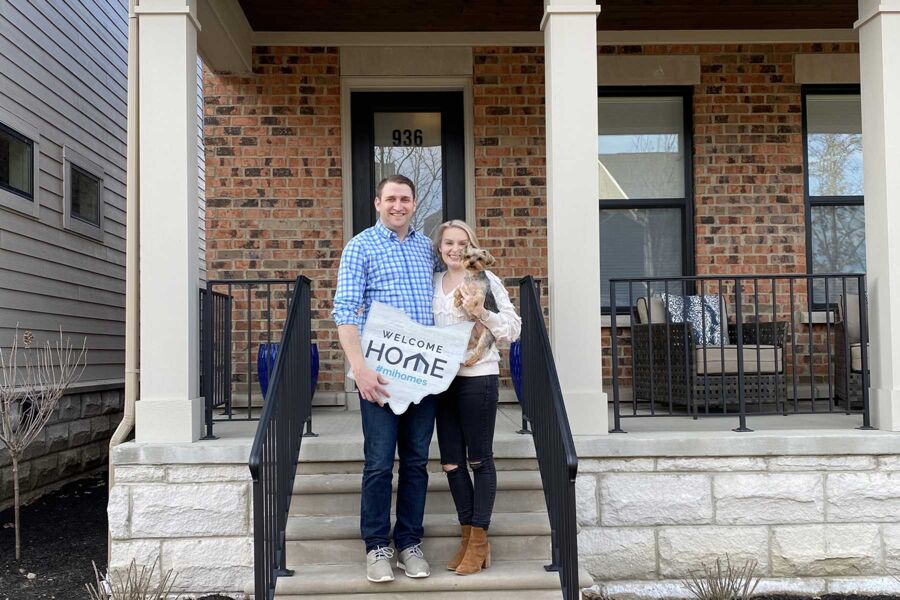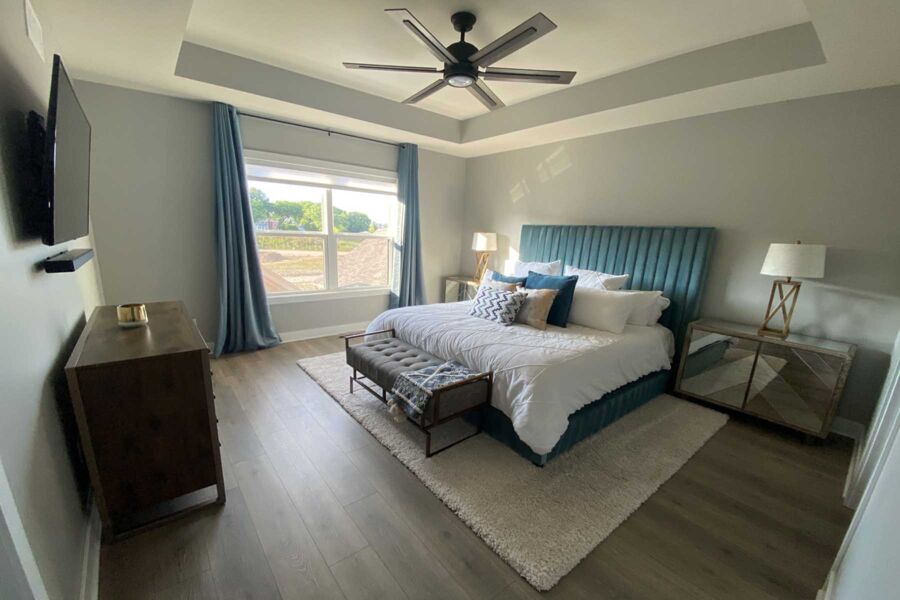 As millennial homebuyers, the Gottesman family was on the hunt for the perfect new home to accommodate their active, downtown lifestyle. After realizing the financing and design processes weren't as overwhelming as they thought, the rest came easy as they found their dream home! Read the story below.
1. You recently bought a home in one of M/I's newest communities near Downtown Columbus. What drew you to that area and M/I Homes as opposed to other housing?
What really struck me about Grandview Yard is that it is so centrally located that you can be anywhere in Columbus in about 15-20 minutes. The house is about 90 seconds from all the major freeways, so that convenience was attractive. My previous home was about a mile away, so I've been entrenched in the downtown living environment since I graduated from Ohio State.
The other main selling point was the walkability to parks, shopping, dining, and entertainment. Walking the dog is one of my favorite things, so we can walk every day and never take the same route twice!
2. From your experience as a millennial homebuyer, what was the easiest part about buying your new home? What was the hardest?
One of the more seemingly daunting things about the process leading up to purchasing was the financing component, but after meeting with M/I Financial, it ended up being one of the easiest parts of the experience. They broke everything down into digestible pieces, and the portal made it so easy to upload documents and track where we were at in the approval process. Everything was done 100% paperless, and for verifying funds, they have a third-party application that allows you to sign into your bank and securely share the needed details with them. We weren't pulling our hair out tracking down bank statements.
Leading up to the closing it was very clear what was required of us, so it ended up being headache-free. We also shopped around and compared M/I Financial with a couple other lenders, and they had the best overall package for us to select when you looked at rate, monthly payment, and closing costs.
The hardest part about the process was the fear of making the "wrong decision" when it came to selecting options. We trusted our salesperson to guide us, and she did a great job of that, but when there are so many great choices to choose from, you find yourself second guessing your decision at times. Ultimately, it's not life or death, and most of the decisions could be changed in the future if we truly made the wrong one (even though I'm not sure the wrong one is in the cards).
​
3. Is this your first time to new construction? How was it different than your first home buying experience?
My previous home was built in 1900, so I think I may win the challenge of oldest to newest! As you can imagine, homes built today are VERY different than the home that was built in 1900. As soon as we walked through the new construction, we knew it was the right thing for us. When you're in a house that is that old, you always have weird smells, odd noises, and things that are not quite straight. Living in a new home, everything is quiet, energy efficient, and well, new!
I loved knowing what is under the floors and behind the walls. In the old home, that was always an uncertainty, and with any projects, you ran the risk of uncovering something that you wished you hadn't. When I renovated the kitchen at the old home, I found that a portion of the subfloor was a hockey stick shaft!
4. Tell me about choosing the design options for your new home. How did you feel about the number of choices you had to make?
At the community we purchased in, there were 12 design collections, professionally design by Mary Cook and Associates, that we were able to select from. I loved this process because the collections were displayed in the model homes as well as the homes under construction, so we were able to see the options in a full-scale environment. We ultimately decided on one of the collections that was in a model home! This process was perfect because it took the guess work out of it, and we were confident that the colors went well together. Grey has so many shades, as does white, so getting them to pull in the right tones can be tricky. Since we had seen it, we were confident in our selection. Choosing from 12 was probably the perfect amount. Too many more and we would have been overwhelmed, and a few less would have feel a little restrictive. The 12 collections were broken down in to 4 distinct styles, which helped us quickly identify the style we wanted and then focus in on the collections in that style.
5. Do you plan on entertaining much? If so, how do you plan on using the spaces in your new home to suit a group of friends or family?
We love to entertain and are ready for the day that we can! The placemats area set and the bar is stocked—we're just waiting for the green light to do so. What we really love about our home and the floorplan we picked is that there are a variety of areas to entertain. If it's nice out, the front porch and patio in the back are both suitable options. When the weather isn't ideal, the large kitchen island is the perfect hub for guests to start at and then make their way to the family room or dining area.
My favorite spot to entertain is in the basement. We have turned it into a theatre, complete with a wet bar. There is room for probably 10-12 people down here, so it's perfect for watching the big game!
​
6. What has been your favorite memory in your new home so far?
My favorite memory happens over and over again: cooking in our kitchen and then eating that home-cooked meal at the island or dining table. There is a special ingredient when you cook at home in your new kitchen that just makes food taste better. Having a large walk-in pantry makes prepping for meals so easy, and with all of the drawers in the kitchen, there is plenty of room for all the cooking and baking toys.
I've started taking photos of every meal we make, and at some point will produce our own "look cook book" with no recipes, just photos of things we've made. That way, when we're asking, "what's for dinner?" we can just open the book and be reminded of delicious things we've done before!
2020 had us cooking way more than we had ever in the past, but it's something we'll certainly continue in the future because we have so much fun trying new methods and perfecting dishes.
​
7. I understand that you planned your wedding around the same time you were moving into your home: how did this experience impact wedding planning (positively and/or negatively)?
For us, there wasn't any sort of implications on the wedding planning related to buying a new home. The biggest advantage of moving into the new home before our wedding what that when family and friends wanted to purchase items off our registry, it felt like a housewarming gift combined with a wedding gift! We didn't have much in the way of kitchen stuff from the previous house, so this was a great way to help fill the cabinets.
The other great thing about having the house before the wedding was that we were able to have our out-of-town family stay at the house for the week of the wedding, which was a fun way to spend the days leading up to it. There was also something special about coming home from our honeymoon to OUR HOME. I was too tired to do the traditional carry across the threshold or the like, but it was very satisfying that we had this place to start filling memories for the next chapter of our life.
---
If you're a millennial searching for a home, it's not as scary as you think! We've got resources to help you feel comfortable and informed as you begin your home buying journey. Reach out to me today to get started!

Author

Author
As the Internet Sales Manager in Columbus, Emily is here to help answer your new home buyer questions. She provides the pathway to narrow your home search down, and she addresses a variety of questions on home building! Aside from #ISMworklife Emily enjoys spending time with her little daughter, wearing festive wool socks year-round, and collecting glass owls.
Recommended Stories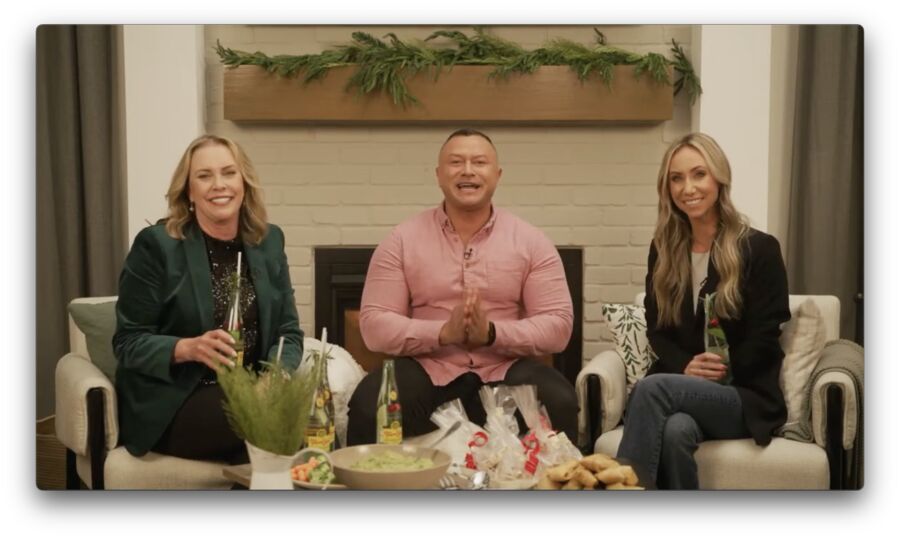 Home for the Holidays: A Texas-Inspired Meal
Author

Author
As the Internet Sales Manager in Columbus, Emily is here to help answer your new home buyer questions. She provides the pathway to narrow your home search down, and she addresses a variety of questions on home building! Aside from #ISMworklife Emily enjoys spending time with her little daughter, wearing festive wool socks year-round, and collecting glass owls.