Posted by Allison Boreen in Minneapolis, Home Design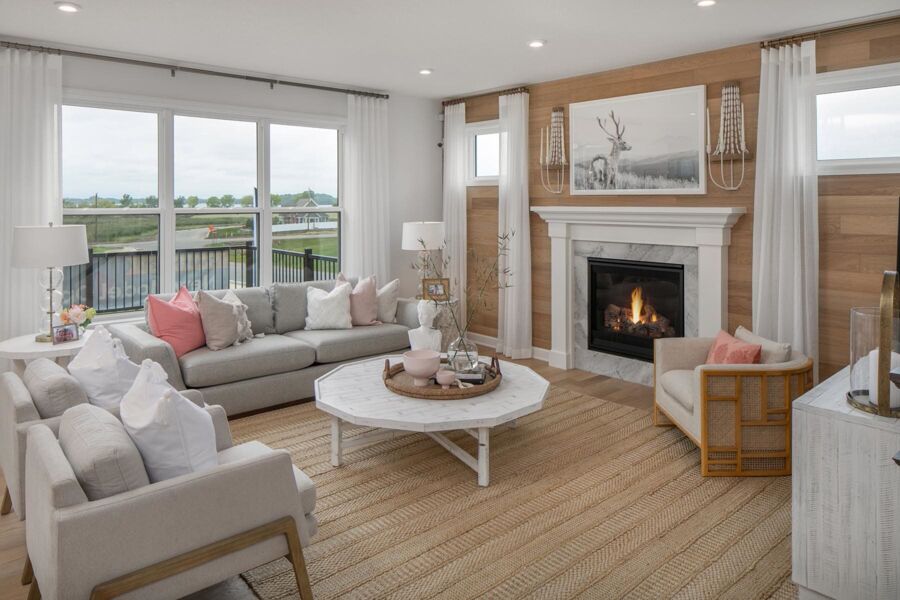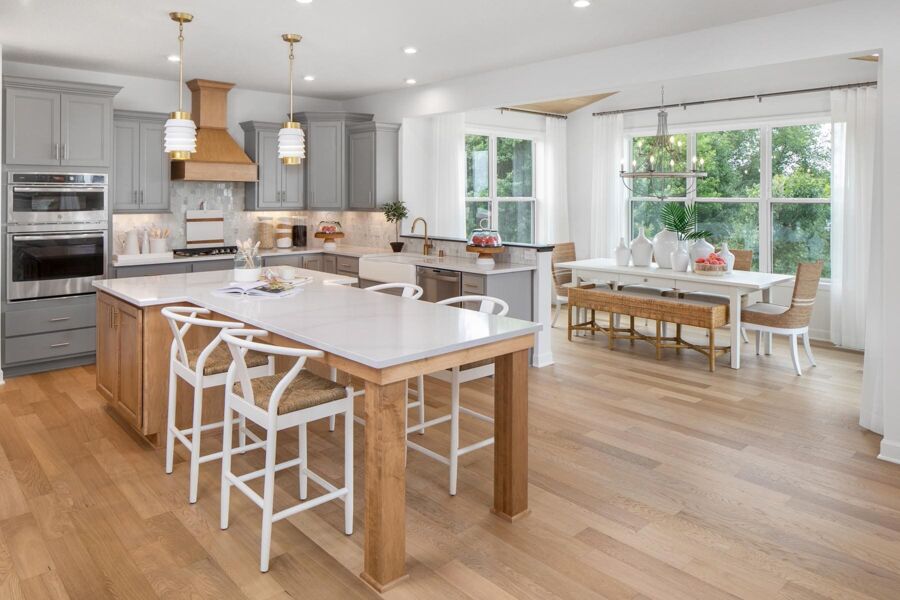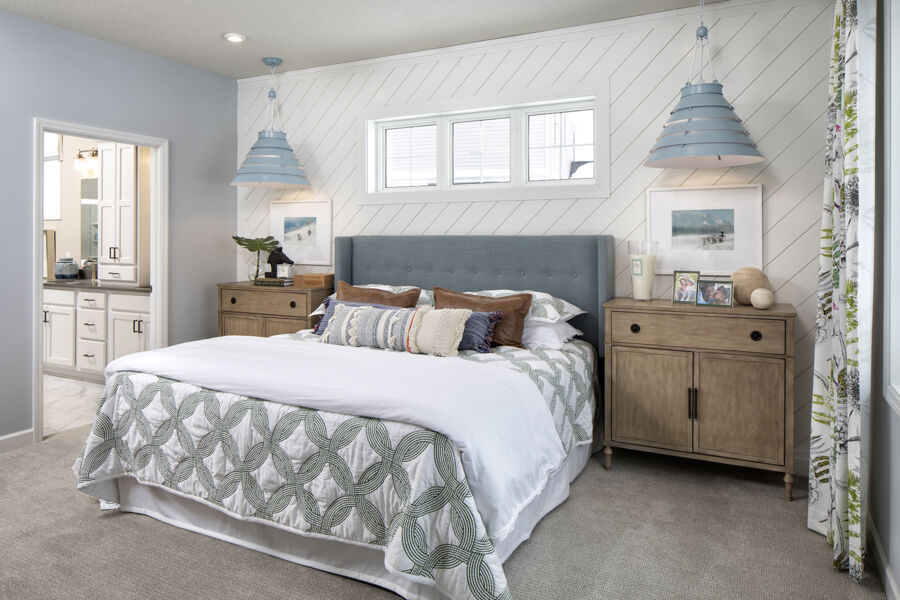 When it comes to interior home design, there are many popular styles to choose from. While most people tend to gravitate towards one or two styles, some fall somewhere in between a few different styles.
What's your home design style? Read below to learn about popular interior design styles that are seen in our professionally decorated model homes at M/I Homes.
Transitional
Lauren Oster with HGTV describes the popular Transitional home décor style as one that marries traditional and contemporary furniture, finishes, materials and fabrics, creating a classic and timeless design.
It's a style that offers sophisticated pieces with right angles and crisp lines with more rounded pieces.
A neutral palette is popular in this style as the purpose of the Transitional style is to evoke a soothing atmosphere, meaning taupes, tans, and vanillas are paired with darker organic tones like denim blue, green, or dark brown for depth.
By adding patterns and texture to this neutral palette, the Transitional style often creates a resort-style look. Add modern lighting to this style to complete this look.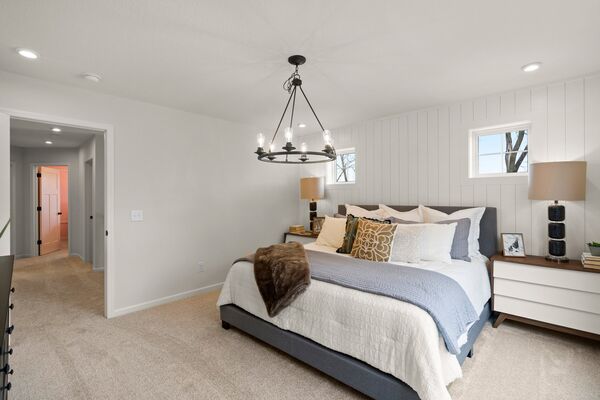 To see more examples of a Transitional look, visit our Cedarwood model in our stunning Adelaide Landing community in Hugo, MN.
Modern Rustic
Decorilla designer, Brittney J., explains that the Modern Rustic design style always includes natural materials, industrial touches, and modern farmhouse elements.
The Modern Rustic style was originally born from the Romantic movement, a movement that focused on simplicity and shows a respect for the beauty of nature, with including lots of texture that imitates elements of nature.
Brittney goes on to explain that with Modern Rustic design, there is usually a fair amount of wood and or/stone. A warm-paneled wood ceiling implies the feeling of being one with nature.
The inclusion of wood and stone is soothing to the eye and doesn't cause visual strain but instead radiates comfort.
This style always merges modern furniture with outdoor elements. With this design style, the use of wood can be softened by sheepskin or cowhide to generate a cozy feeling.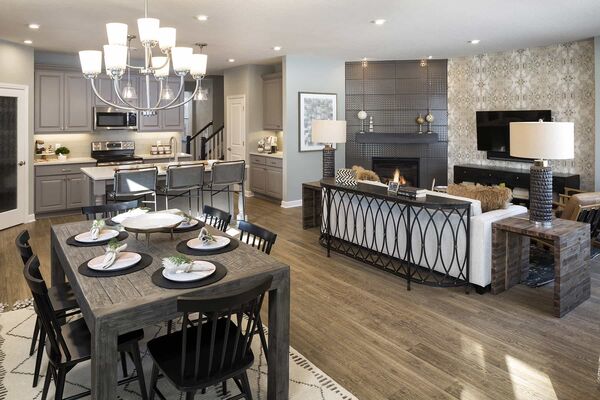 Visit the Aspen (aka Linden II) model in our Haven Ridge community to see elements of Modern Rustic design.
Bohemian
In exploring the Bohemian design style, RaShea Drake with Vevano Home describes it as a style defined by a lack of structure, opting instead for carefree layers of pattern, texture, and color. The core of this style is to create a personal and relaxed style, inspiring boho vibes.
Colors popular in the Bohemian look range from neutrals like white and tan to a mixture of vibrant jewel tones.
Irons are popular along with metallics such as gold, silver, brass, and chrome which balance this style's elements.
Rattan, wicker, or plush furniture also work well and pair nicely with plenty of throws and pillows that eclectically mix vibrant colors and patterns.
Read how to style your home with boho décor.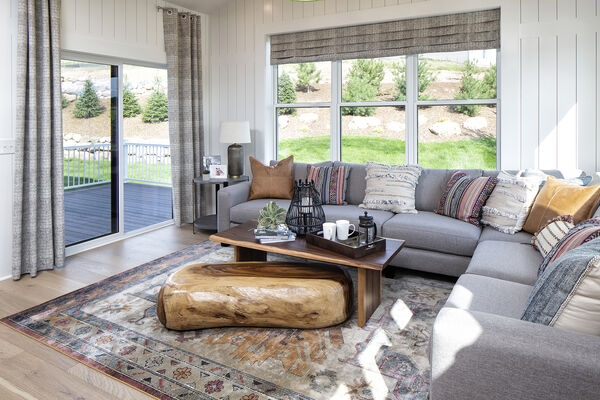 Visit the Beckett model in our Bailey Meadows community to see how Designers have introduced Bohemian elements into this stunning two-story home.
Mid-Century Modern
Foyr.com discusses Mid-Century Modern style homes in detail, explaining the origin of this rising design trend.
This style trend really became popular in the home in the mid-1950s, maintaining a presence in the home mostly from the 40s to the 60s.
Now, the Mid-Century Modern look makes its way back into homes using elements of the past and combining them with a modern twist of today.
This design style has a fresh vibe with a retro feel and is characterized by having a minimalist approach, using clean lines, ornamentation, and organic shapes.
Typically, this style has one statement piece or central focal point that lays down the theme of the room. This helps to maintain its minimalist vibe and prevent from feeling cluttered.
You may see furniture that is eccentric shaped or showcases hairpin legs, neutral wools, graphic patterns, low seating. You may also see greenery mixed in.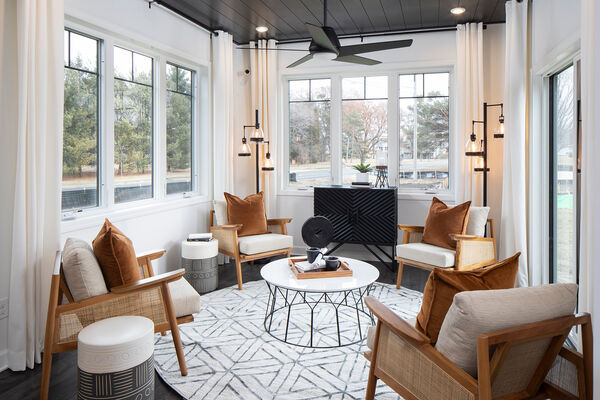 To see how Mid-Century Modern elements are incorporated into home design, visit our Cedarwood II model in our Alexander Woods community.
Coastal
When it comes to Coastal style homes, think light, airy, and calming. Decorilla describes this style as having a laid back yet chic look, embodying the atmosphere of beautiful seaside retreat through color and furniture picks.
Accent colors tend to include vibrant pops of yellow, coral, powder blue, or turquoise. Bluegreen glass vases, earthy ceramics, jute grass rugs, and different shades of blues really help to drive this style home.
Light wood floors and furniture help to convey the coastal vibe; complete this look by adding weathered blond woods or furniture.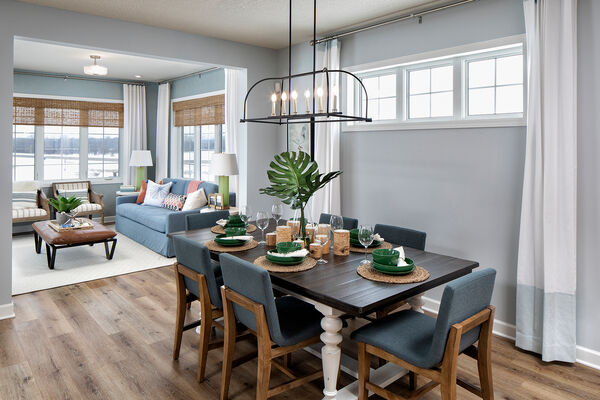 Our Cedarwood model in our North Creek community beautifully displays a Coastal design style throughout.
Modern
The Modern interior design style can best be described by Decorilla as simple with clean lines yet still remaining comfortable and cozy. Modern décor is often that with strong horizontal and vertical lines.
Decorilla goes on to explain how iron, steel, and concrete are materials often seen in this home design, which also can add a somewhat industrial element.
New Modern style homes can include bold colors in accent pieces, and the use of red, white, black, blue, and yellow are not uncommon to see.
Bold patterns and prints are typically avoided in this design style. The Butterfly-style chair is a popular furniture choice when emulating a Modern home design.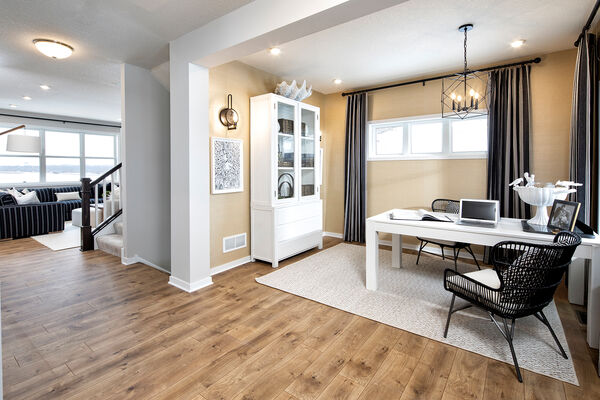 Check out our Bentley model in our stunning North Creek community, which showcases Modern design elements throughout.
Modern Farmhouse
Another popular style in today's home design world is known as Modern Farmhouse. Henck Design describes this style as one that displays classic, simple, and rustic elements which mirror the simplicity of rural areas.
This style is rooted in American culture and furniture design, taking its inspiration from the farm homes of early settlers.
In the past, wood paneling, antique furniture, soft printed fabrics, and warm, yellow-toned walls dominated the aesthetic.
Today's Modern Farmhouse style homes are much more relaxed and cozy feeling.
The farmhouse look these days tends to include white walls, black accents, industrial lighting, as well as a mix of new and vintage furniture. Added rustic décor, exposed beams, and natural fibers in rugs and furnishings throughout complete this Modern Farmhouse look.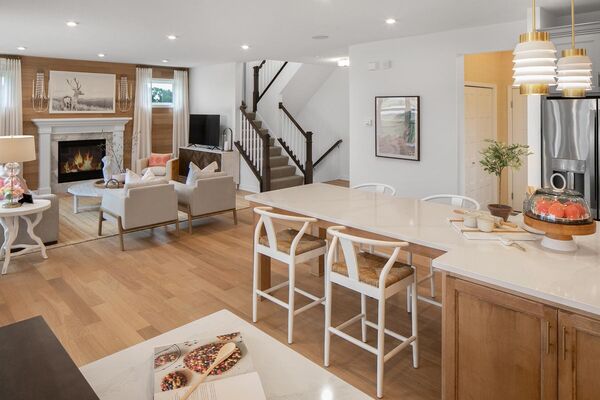 Stop by the Victoria model in our Island View Estates community to get a closer look at how the Modern Farmhouse style is introduced in this pristine two-story home.
Industrial
Decorilla's Brittney J. describes Industrial home décor styles as having masculine tendencies, combining old-world charm with modern sleekness.
The closing of western European factories at the end of the second industrial revolution left many large vacant buildings behind.
Population increase caused people to start converting industrial areas into residential neighborhoods. In this style, it's common to see exposed brick, exposed pipes, and exposed beams.
Industrial style home decor commonly mixes old with new. Mixing wood and metal is typical, and instead of searching for furniture that is new, try including furniture that has a weathered look to replicate the old and create character amongst the space.
This popular style doesn't often include pops of bold color but instead relies on combinations of neutral shades to create a clean look.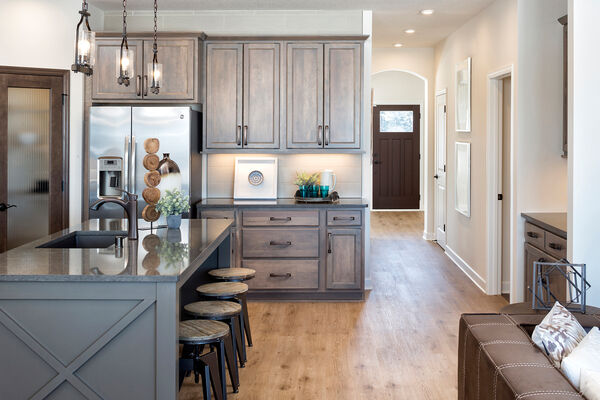 Our Cedarwood model in our Adelaide Landing community introduces some elements of Industrial design style in this stunning home.
How Do I Know Which Design Style Is Right for Me?
What's great is that all of the trending interior home design styles that are making their statement in homes look fantastic in the open-concept layouts that you see in many homes today!
If you've already purchased a home from M/I Homes, defining your interior home design style prior to your Design Studio appointment will help you decide what elements to include in your dream home and make for a smoother process.
Communicating your design preferences to your Designer during your appointment will help them guide you in helping your vision come to life.
If you are still unsure about what style you gravitate towards, take our design style quiz to find which style is perfect for you!

Author

Author
As Internet Sales Manager in Minneapolis, Allison has been in the real estate industry for nearly 15 years. She has always enjoyed helping buyers find their homes within our numerous communities throughout the Twin Cities. In her free time, Allison enjoys writing, trying new restaurants, and seeing live music, and she uses her innate knowledge of the area to help buyers love their hometown!
Recommended Stories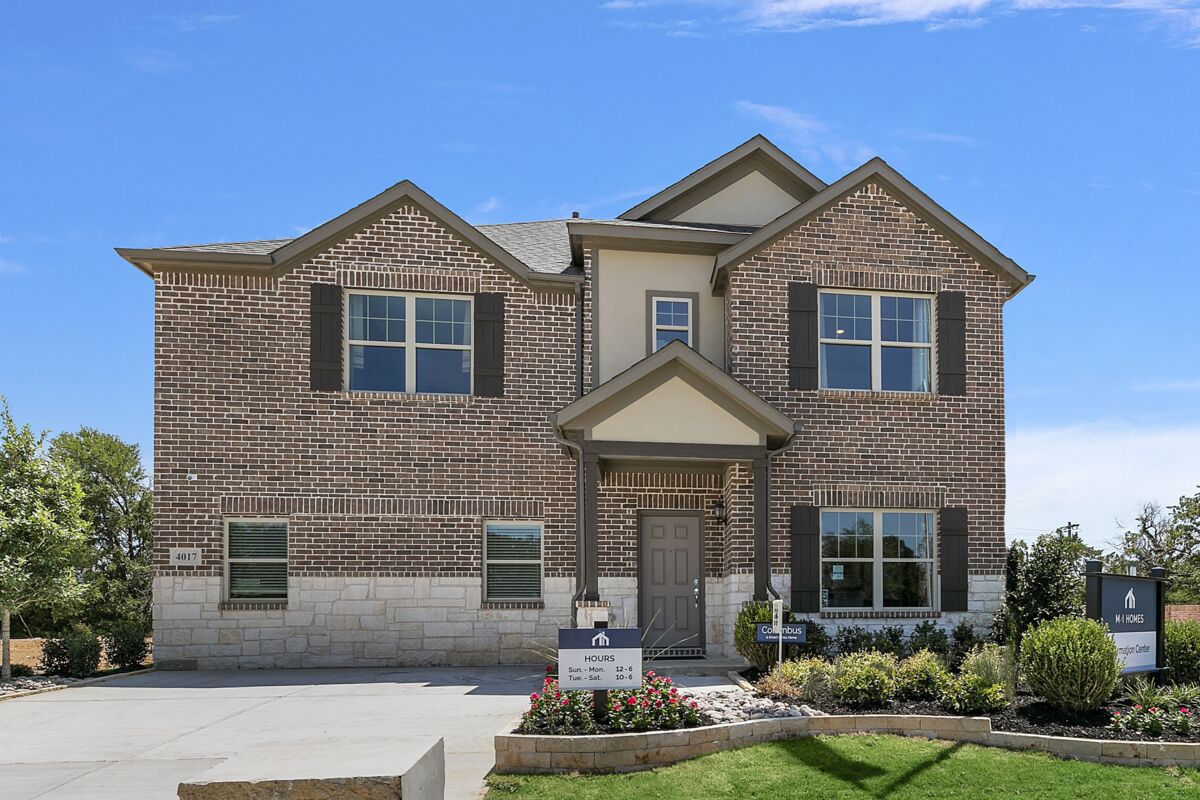 M/I Homes – Dallas: 4-Time Builder of the Year
Author

Author
As Internet Sales Manager in Minneapolis, Allison has been in the real estate industry for nearly 15 years. She has always enjoyed helping buyers find their homes within our numerous communities throughout the Twin Cities. In her free time, Allison enjoys writing, trying new restaurants, and seeing live music, and she uses her innate knowledge of the area to help buyers love their hometown!