Posted by Amanda Magness in Dallas, Home Design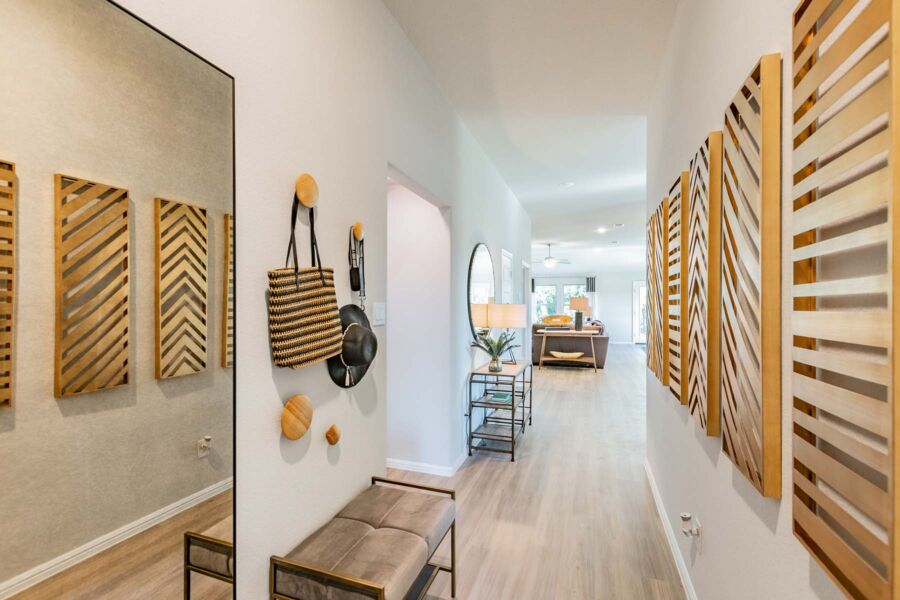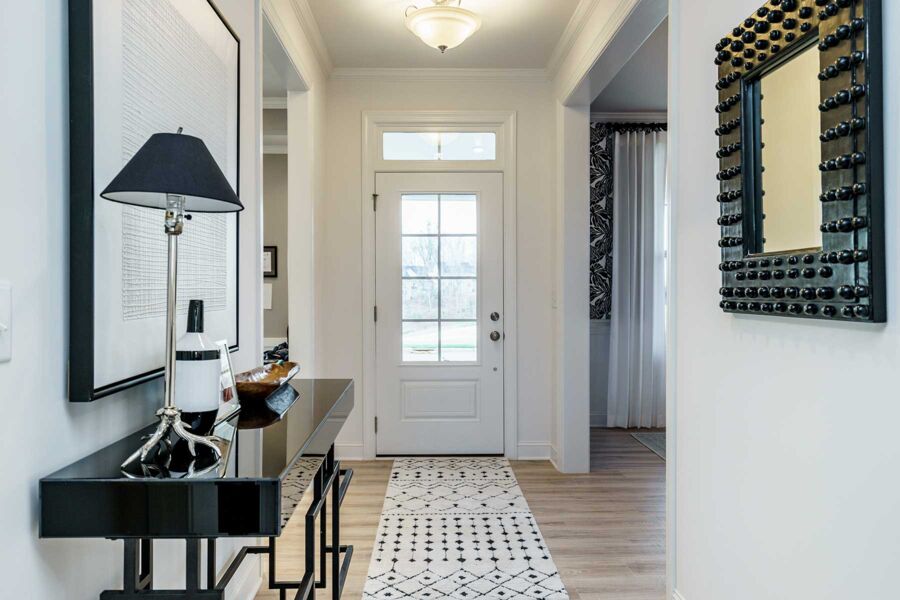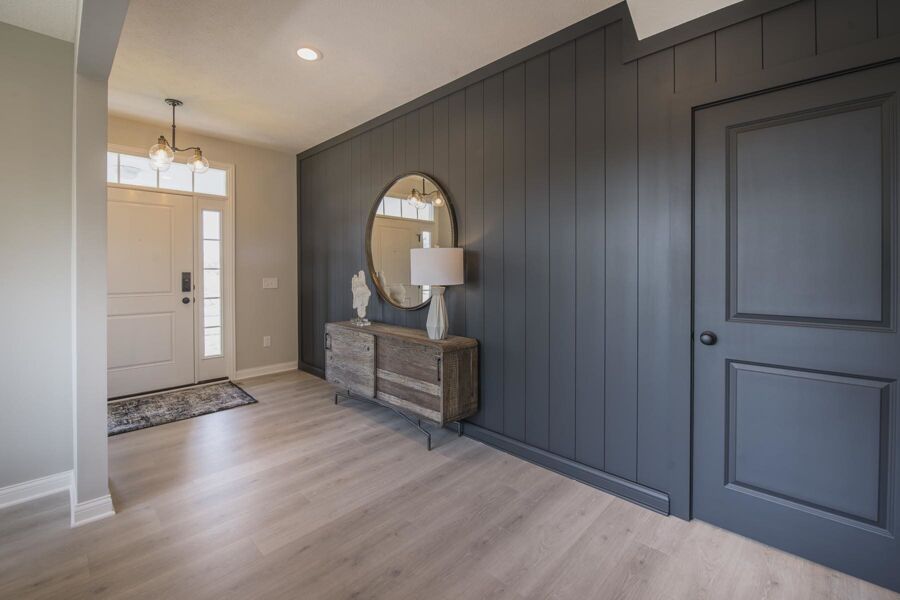 ​Remember the old adage, "You never get a second chance to make a good first impression"? Studies show that nearly 55% of first impressions are made by what we see, and it only takes a mere 7 seconds for most people to form a first impression. Your home is no different!
​Your entryway is the space where you first greet guests and offers an opportunity to give a glimpse into the quintessence of your style. It's time to make the most of that valuable square footage.
​Imagine that first look into your home, unlocking the front door, kicking off your shoes, and setting down your keys. Stepping into your new home should be an experience day in and day out—and it all starts in the foyer.
How to Decorate Your Entryway to Reflect Your Style
​Wondering how to decorate the perfect entryway at your home? Pondering how you can weave your individualized design aesthetic into that first influential segue into your home? We've compiled some of our top tips and tricks to give your foyer a little razzle-dazzle that will create a welcoming sense of arrival and take your entryway decor to the next level.
#1. Entryway Statement: Use a Colored Door
​Unlock endless potential by simply swapping out the color of your door. It can be something as subtle as a light gray that provides just enough contrast against crisp white trim, or, if you're feeling more ambitious, add a fun pop of color, immediately adding an extra dose of personality.
​From rich jewel tones of sapphire blue or emerald green, to soft and airy hues of dusty sky blue, or even a modern and sophisticated black, painting your door will make a striking first impression and scream "I'm ready for visitors." Your entrance will instantly become more inviting.
#2. Entryway Flow: Patterned Flooring
​The best entryway floors withstand all of the daily traffic, moisture, and dirt that gets tracked through a threshold; however, that doesn't mean durable, maintenance-free flooring has to be any less captivating or exquisite. Patterned flooring is a brilliant way to capture movement through the house, while encouraging flow and directing guests into the heart of the home.
​Iconic, geometric, herringbone laid flooring draws the eyes both vertically and horizontally, creating balance and enhancing a fashionable mood as you walk through the front door. Not only that, but the refined contrast of tone-on-tone entryway flooring against the surrounding vertically laid flooring elongates the space and proves to be a real showstopper: subtle, yet beautiful.
​
​Whether artfully laid wood, patterned tile, or textured laminate flooring is your cup of tea, adding stylish flooring at your entryway that flows into the rest of your open-concept living space, and continues your line of sight to the back of the home, will surely make a chic and memorable first impression from the moment you step inside.
#3. Practical Entryway Pieces: Textured Runners
​Between a myriad of vibrant colors, bold textures, and intricate patterns available in rugs, runners are an impactful focal point to immediately glamorize your entryway and really showcase your personality (as well as stop dirt from finding its way into your home).
​If you're wondering how to decorate your entryway, adding a rug is the best place to start, and it's easily interchangeable if you're looking for a facelift or easy pick-me-up, should your taste change over time. An entryway runner will also visually lengthen your walls and make for an even grander first impression.
​From bohemian to more contemporary, modern, coastal, or farmhouse-chic styles, the options are virtually endless. Adding a rug can aid in immediately anchoring your entryway and establishing your home's design aesthetic from the moment you enter the home.
​If you have four-legged fur babies running around inside or little ones one the move, don't forget a rug grip to keep your much-loved carpet from slipping and sliding around.
​Keep in mind the importance of durability in a high-traffic zone as well. Don't let your entryway rug seem like an afterthought. An intentional look at varying sizes, proportions, fabrics, and designs can heighten the impact.
​A deep color palette or boldly patterned carpet can be very forgiving in helping camouflage dirt or grime that may sneak its way in from the outside elements, whereas a softer and lighter toned rug may elegantly contrast against darker flooring.
#4. Add Extra Entryway Light with a Mirror
​An entryway just wouldn't be complete without a mirror. These eye-catching furnishings can double your natural light, so if you're on the hunt for some small entryway decor ideas, this is a brilliant addition to make a narrow space feel much more open.
​
​From smaller, more whimsical mirrors, to full length mirrors, oversized round mirrors, those with simple frames, and others with more ornate designs, let your imagination run wild. With so many sizes, shapes, and colors to choose from, maximize your mirror's impact and really allow it to reflect your individualize style.
​Not only will a mirror add depth and an illusion of space to your entryway, but you'll also appreciate the accessibility of taking one last look at yourself before leaving the house. This transitional piece is an absolute essential.
#5. Wow Guests with an Entryway Accent Wall
​Wake up the entryway walls! From trendy shiplap to a gallery of photos, or even an added pop of color, an accent wall will add distinctive style and take your entryway wall decor to the next level. This provides a prime opportunity to really dazzle your guests, while infusing the space with a little extra character and flair.
​A well-defined color scheme can make your space look cohesive and organized, and a dash of vibrant color can quickly transform a wall immediately viewed upon entry.
​
For a longer entryway or foyer, take advantage of the wall space by placing a gallery wall where you can showcase memories from your last family vacation or milestone moments over the years. Not only does this add symmetry and balance, but you'll also love coming home to a daily reminder of special times with ones you love.
​If you're going for the classic look of reclaimed wood, channeling your inner Joanna Gaines, feeding an affinity for the subtle depth and dimension of shiplap, or maybe a combination of the three, take on a DIY weekend project that will immediately level up your décor and certainly create an entry that will welcome and wow.
#6. Multi-Functional Furniture for Your Entryway
​To make the most of a small entryway space, look to multipurpose accents. A small console table could not only be the perfect place to drop your keys or set the mail, but it could also become a useful space to display prints, family portraits, or seasonal décor. Add a few candles or showcase a handful of your favorite books. Place some wicker baskets underneath for additional storage, or whatever else best fits the space.
​
​Take your shoes off and stay awhile! A small bench would make a comfortable place to sit or drop off handbags. Add a few pillows to double as both comfortable and decorative. The beauty of home is that it's a special place that's uniquely you.
​Quality, multipurpose furniture is a versatile way to create a space-saving and functional entry without compromise.
#7. Lighting to Brighten Up Your Entryway
​Lighting can really take your space from bland to breathtaking. If you're looking to make an impactful entrance, we say go all out and really let your personality shine.
​Entryway lighting is what sets the tone for that first impression when guests step inside, and it elegantly illuminates the space. A grand fixture will draw your eye up and enhance the volume of the space.
​Whether it's a striking geometric pendant light or an elegant chandelier, your fixture will contribute to the overall ambiance, offer another opportunity to showcase your style, and beckon guests to stay a while.
​
Bring Your Entryway Décor Vision to Life
​The entry may not seem like an important room, but in actuality it is the first glimpse into your home—the best place to display your important moments and really drive home your personal design aesthetic. Whether you have a sprawling foyer or a smaller entryway, you can still make the most of this cherished space.
​Sometimes less is more, and you want to simply let the clean design and architectural features of the home speak for themselves, and other times you want to dress up a neutral space with intriguing shapes, colors, and patterns.
​Implement your favorite tip (or a combination of the tips above) to reflect your own authentic, personalized, and memorable story of home.
​Let the first steps in the door of your new home make a lasting first impression. How does your entryway decor go the extra mile? Share your own inviting entryway with us and tag @mihomes!

Author

Author
As the Design Studio Manager of the Dallas division, Amanda brings a wealth of knowledge and expertise to her role, working with homebuilders in various design galleries for over 22 years. Amanda joined the M/I Homes team in 2019 and has been an invaluable contributor. Her keen eye for design, affinity for keeping up with the latest trends, and knack for crafting beautifully detailed spaces make her an incredible resource for all things related to design.
Recommended Stories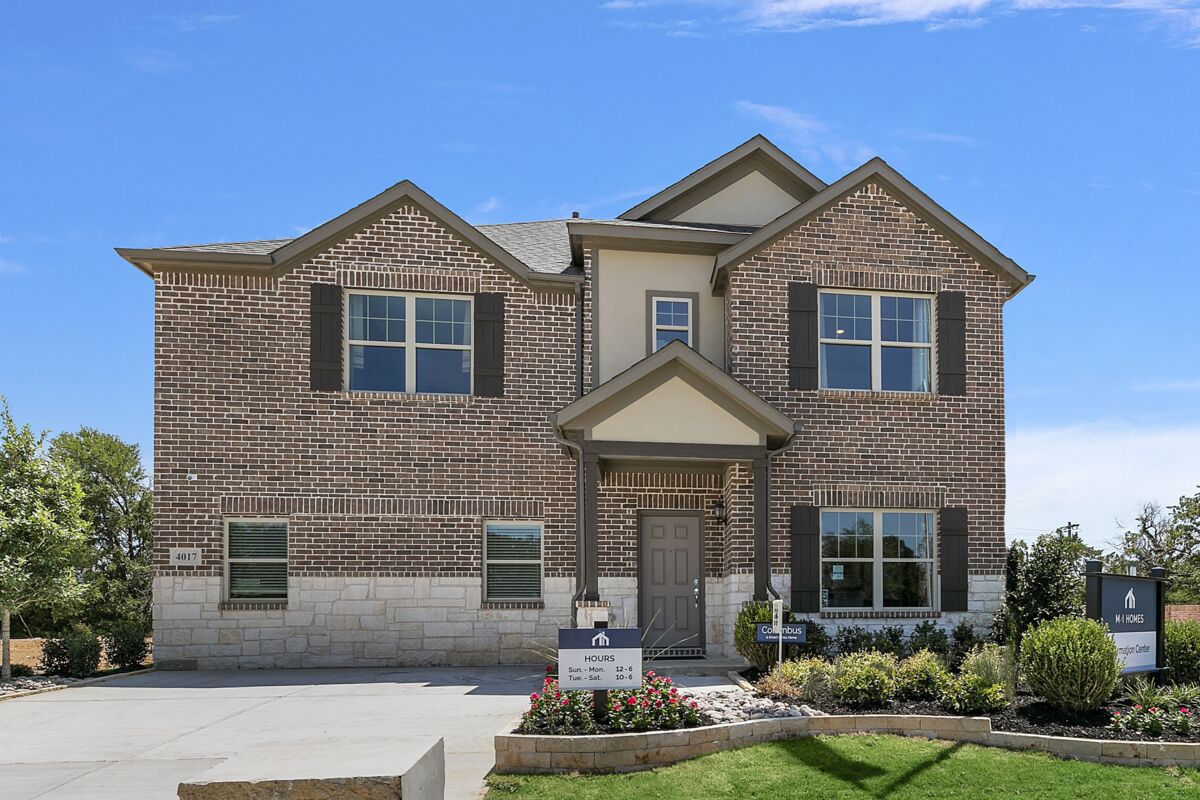 M/I Homes – Dallas: 4-Time Builder of the Year
Author

Author
As the Design Studio Manager of the Dallas division, Amanda brings a wealth of knowledge and expertise to her role, working with homebuilders in various design galleries for over 22 years. Amanda joined the M/I Homes team in 2019 and has been an invaluable contributor. Her keen eye for design, affinity for keeping up with the latest trends, and knack for crafting beautifully detailed spaces make her an incredible resource for all things related to design.